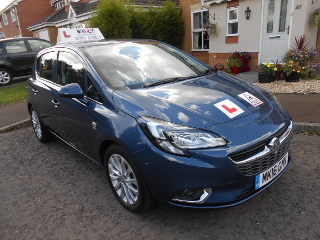 I teach in a petrol Vauxhall Corsa 1.4 SE:
Manual transmission
Power steering
Adjustable seat height
Adjustable steering column
Anti-lock braking system
Air conditioning
He-Man dual controls

A nice, light, easy car to learn to drive in.

The Corsa is easily adjusted to fit all shapes and sizes.

Comfort is important when learning, as straining to reach controls and pedals can be a distraction from learning.